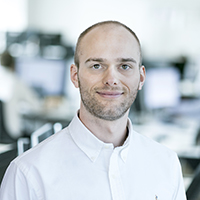 Michael Hugener Nielsen
Equity Analyst
– MSc in Finance 
What my day looks like?
As an Equity Analyst, I am part of the team with responsibility for a portfolio. I am responsible for some of the companies within the portfolio. Each day, I monitor these companies very close through various news channels, financial statements and analyses provided by external analysts in order to assess whether the companies are impacted by industry or company related news. The news may also come directly from one of the companies in the portfolio as we are in continuous dialogue with them. This dialogue also gives us an opportunity to try to impact the companies in which we have invested to take shareholder friendly actions. Time, which is not spend on monitoring current investments, is spend on screening and analysing new, potential investments.
Why the job motivates me?
I joined Lind Invest the summer before I started my Master's and the student job had a tremendous impact on my interest in financial markets, which had been limited until then. The combination of theory from my studies and the on-job application has really helped me to achieve the best outcome of both.
I really like that my current position requires me to be agile as I cover a broad range of tasks – from in-depth analysis of companies to trading. But the job also requires me to look further than my own desk, as the human factor is important as well. Face-to-face interaction with the companies in which we invest and the people behind, is one of the aspects which I appreciate in my job.
What it means to be a part of the Lind Invest team?
One thing that is unique at Lind Invest is how people interact and work with each other within and outside working hours. It is a very competitive environment, where we challenge each other to become better, but also have the time to help one another at the same time. After I rejoined Lind Invest, it has become apparent to me that the people at Lind Invest holds a very important asset; to be able to support each other in a constructive way.
Taking responsibility in my job every day?
As I became a full-time employee at Lind Invest my responsibility increased and it continues to do so. By presenting a well-documented investment recommendation and consistently achieving the goals established in collaboration with my manager, I prove to myself and my colleagues that I am able to take on more responsibility every day. I was quickly appointed as responsible for various investment positions and I clearly remember the first time where I was alone with this responsibility. I had the responsibility for an investment and I needed to make an important decision where a large amount was at stake with a limited time available while I was in a holiday home. Compared to my own funds, this is a huge amount and I had to check twice to grasp the situation. Since then the numbers have grown, as has my responsibility.