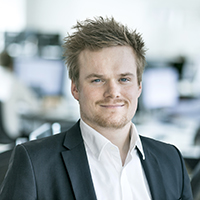 Jonas Højhus Jeppesen 
Finance Manager 
– MSc in Finance 
What my day looks like?
As Finance Manager, I am responsible for all aspects of the operation of Lind Invest as a parent and holding company of the Lind Invest Group. I manage everything from accounts, tax and reporting over risk controlling and compliance to negotiation with banks and other business partners as well as management of and professionel discussions with my colleagues in Finance & Risk.
Why the job motivates me?
I have a feeling that I every day takes part in making a difference in Lind Invest. Along with my skilled colleagues, I put my stamp on Lind Invest every day and it motivates me greatly. My tasks within accounting, risk management and the close contact with the financial markets, matches my personal interest for this. My job gives me a broad knowledge of a variety of different subject, while there is still opportunity to delve into specific areas and specialize in it.
What it means to be a part of the Lind Invest team?
The culture of Lind Invest is professional but informal and among the employees there is a desire to challenge and learn from each other – this challenges me and helps me constantly develop myself. Every day I look forward to go to work, which, in addition to exciting tasks, also is because of the great solidarity among my colleagues. We spend time on social activities both in- and outside the office, which contributes to a fun filled everyday work life resulting in a great office atmosphere.
Taking responsibility in my job every day?
From my first day in Lind Invest I got the chance to take on a large responsibility, which has only increased progressively.  I was appointed to manage specific tasks – today, these have changed which I myself have had a large amount of influence in. As fairly newly appointed I have participated in several important decisions so far, including job interviews, preparation of annual reports, important part in determining the KPI's of our risk management and an important part in the decision-making in connection with the purchase of a large software system to our portfolio reporting.