Who is Fundamentet?
Fundamentet (translation: the Foundation) is an Aarhus-based non-profit organisation founded in 2014 with the aim of rethinking social work. The purpose of Fundamentet is to centre on the needs and wants of vulnerable individuals in a meaningful way by focusing less on reporting and bureaucracy. Fundamentet´s many volunteers deliver free and anonymous counselling, psychotherapy, physiotherapy etc. Fundamentet urges people to break the notion that the individual needs of different persons can be categorized and put in pre-selected boxes. Instead, great importance is attached to having close relationships and a safe environment to live in.
In addition, Fundamentet facilitates the 'We Believe in You'-project, which helps vulnerable young people with various complex problems such as drug abuse, homelessness, and mental issues. The aim is to improve quality of life, self-awareness, and financial situation by focusing on solving the users problems and by helping them find an appropriate job or education.
Why and how does Lind Invest support Fundamentet? 
Lind Invest began supporting Fundamentet in 2016 after releasing a Social Return on Investment (SROI)-report that shows great results of Fundamentet's work.
The SROI-ratio was calculated to be 7.74, which indicates that Fundamentet creates DKK 7.74 in value for their users, stakeholders, and society in general for every DKK 1 invested in the project. Furthermore, Despite of being a young organisation, Fundamentet is very well-organised which means a low degree of internal fragility.
The great value creation and the well-run organisational work have laid the foundation for a 10-year commitment where we contribute with DKK 400,000 annually. In addition to our financial contribution, we assist with counselling and provide access to our network.
Visit the webpage of Fundamentet here.
Articles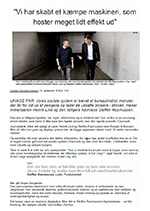 Altinget.dk – 29 September 2016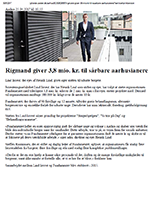 Jyllands-Posten – 25 April 2017