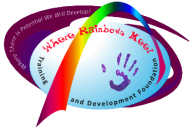 Who is Where Rainbows Meet?
Where Rainbows Meet was established in 2008 as a non-profit training and development organisation located in one of Cape Town's slum areas, the so-called townships. Living standards are extremely low in large parts of the area and people have no electricity or running water. Unemployment is high and living conditions are extremely poor. Where Rainbows Meet offers a wide range of programmes and leisure activities all focusing on alleviating the many social problems and contributing to breaking the negative, social heritage by offering support and education.
Why and how does Lind Invest support Where Rainbows Meet?
Lind Invest began supporting Where Rainbows Meet in 2013 because they help break the negative cycle of violence, crime, diseases and unemployment in the slum-area and provide the base for a brighter future.
Specifically, we support their 'Early Child Development' programme, which offers vulnerable children the opportunity to attend child care. Many studies from various sources conclude that investing in the early years of children's life provides the greatest return. In addition, research in the programme made by Lind Invest has found that the daily cost of care per child is less than DKK 6 – this cost-efficient management secured help for 208 children in 2015.
On the basis of broad scientific consensus about the great return on investing in young children and the cost-efficient setup, Lind Invest has chosen to support Where Rainbows Meet with DKK 15,000 annually.